MIAOU – Innovative sustainable fashion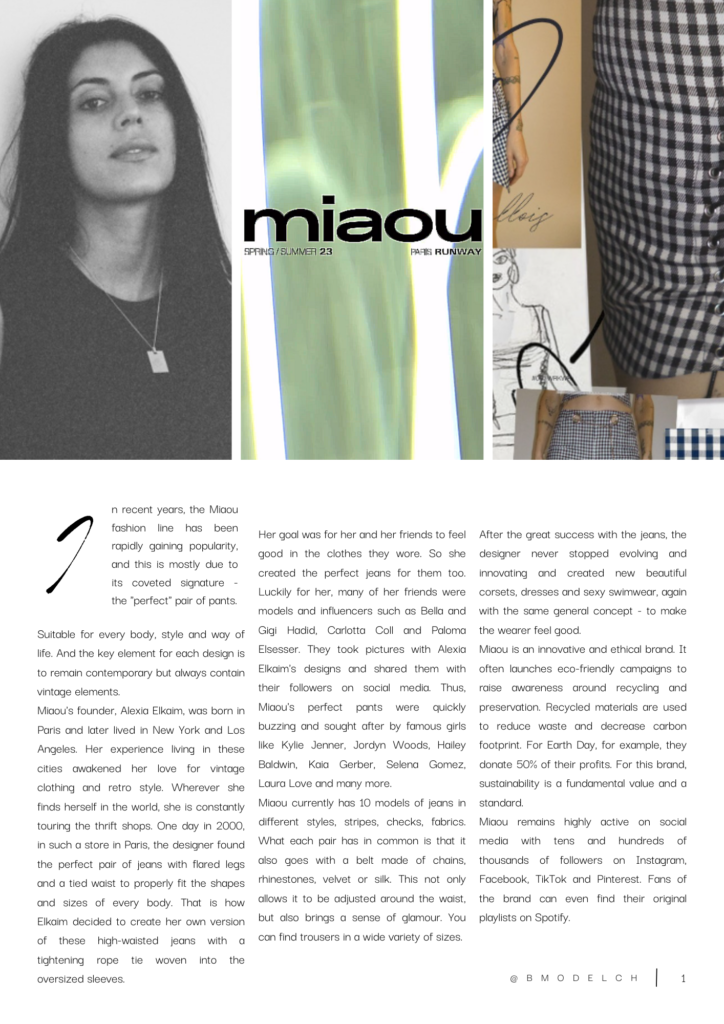 In recent years, the Miaou fashion line has been rapidly gaining popularity, and this is mostly
due to its coveted signature – the "perfect" pair of pants. Suitable for every body, style and way
of life. And the key element for each design is to remain contemporary but always contain
vintage elements.
Miaou's founder, Alexia Elkaim, was born in Paris and later lived in New York and Los Angeles.
Her experience living in these cities awakened her love for vintage clothing and retro style.
Wherever she finds herself in the world, she is constantly touring the thrift shops. One day in
2000, in such a store in Paris, the designer found the perfect pair of jeans with flared legs and a
tied waist to properly fit the shapes and sizes of every body. That is how Elkaim decided to
create her own version of these high-waisted jeans with a tightening rope tie woven into the
oversized sleeves.
Her goal was for her and her friends to feel good in the clothes they wore. That is why, she
created the perfect jeans for them too. Luckily for her, many of her friends were models and
influencers such as Bella and Gigi Hadid, Carlotta Coll and Paloma Elsesser. They took pictures
with Alexia Elkaim's designs and shared them with their followers on social media. Thus,
Miaou's perfect pants were quickly buzzing and sought after by famous girls like Kylie Jenner,
Jordyn Woods, Hailey Bieber, Kaia Gerber, Selena Gomez, Laura Love and many more.
Miaou currently has 10 models of jeans in different styles, stripes, checks, fabrics. What each
pair has in common is that it also goes with a belt made of chains, rhinestones, velvet or silk.
This not only allows it to be adjusted around the waist, but also brings a sense of glamour. You
can find trousers in a wide variety of sizes.
After the great success with the jeans, the designer never stopped evolving and innovating and
created new beautiful corsets, dresses and sexy swimwear, again with the same general
concept – to make the wearer feel good.
Miaou is an innovative and ethical brand. It often launches eco-friendly campaigns to raise
awareness around recycling and preservation. Recycled materials are used to reduce waste
and decrease carbon footprint. For Earth Day, for example, they donate 50% of their profits. For
this brand, sustainability is a fundamental value and a standard.
Miaou remains highly active on social media with tens and hundreds of thousands of followers
on Instagram, Facebook, TikTok and Pinterest. Fans of the brand can even find their original
playlists on Spotify.